The Australian Parliamentary Budget Office (PBO) has just released the 2019 Post-Election Report of Election Commitments. After each general election, the Parliamentary Budget Officer is required to publish a report that details and aggregates the budget impacts of the election commitments made by political parties.
The 2019 Post-election report of election commitments shows the individual and combined budget impacts of the election commitments announced by each of the three major political groupings (the Coalition, the Australian Labor Party and the Australian Greens) ahead of the 2019 general election. Overall, it includes the fiscal impact of 68 election commitments made by the Coalition, 273 made by Labor and 86 made by the Greens.
For the first time, the PBO's post-election report includes the budget impact of the announced election platforms for each party over the medium term; that is, for the period from 2019–20 to 2029–30.
Highlights
2019-20
The report finds that each party platform, if fully delivered, would be expected to result in larger budget surpluses in total over both the 2019–20 Budget forward estimates and medium term periods than outlined in the 2019 Pre-election Economic and Fiscal Outlook (PEFO).
The combined impact of each party's election platform on the underlying cash balance over the 2019–20 Budget forward estimates period, relative to PEFO, is estimated to deliver a:
$0.1 billion improvement for the Coalition;
$17.3 billion improvement for the Australian Labor Party;
$3.8 billion improvement for the Australian Greens.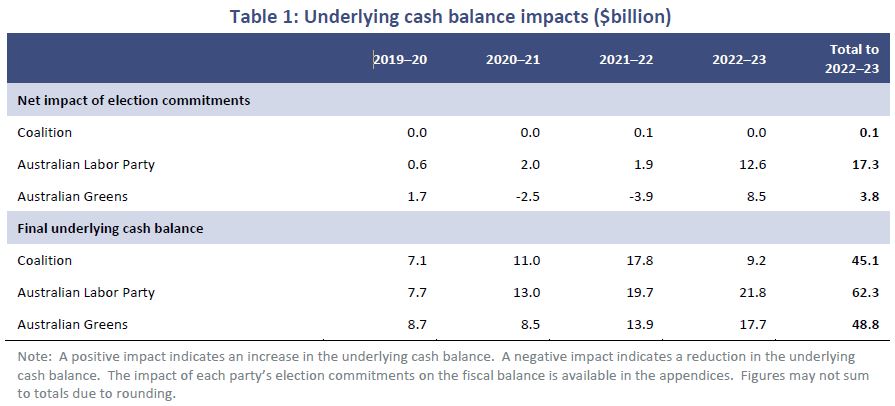 Source: PBO 2019.
Medium term (2019-20 to 2029-30)
The Coalition and the Greens did not release estimates of the medium term impacts of their election commitments prior to polling day. Differences in the medium term underlying cash balance impacts for Labor, compared with those included in the Labor budget plan, are largely due to the application of the technical assumption to limit tax receipts to 24.3 per cent of GDP. These differences amount to no more than 0.1 per cent of GDP in any year.
The election commitments of Labor and the Greens result in higher levels of receipts and payments as a share of GDP relative to the budget baseline at PEFO. The Coalition's election commitments do not materially change receipts or payments from PEFO levels.
Resources
Foreword
Overview
Budget impacts of election commitments

Coalition
Australian Labor Party
Australian Greens
Appendices
Detailed tables showing budget impacts of election commitments
Consolidated costing documents
Other appendices
Appendix G – Requirements for, and approach to the preparation of, the post-election report
Appendix H – Glossary
(Source: Parliamentary Budget Office | Media release)