The Australian Council of Social Service (ACOSS) has released a new analysis on the impact on households of tax cuts and lifting Newstart Allowance, conducted using the STINMOD+ Online model provided by NATSEM at the University of Canberra. The modelling shows that if the government brings forward tax cuts to 2019-20, the biggest winners will be those on high incomes, while there will be little or no benefit for households with the lowest 40% of incomes. In fact, one third of households have incomes too low to pay income tax.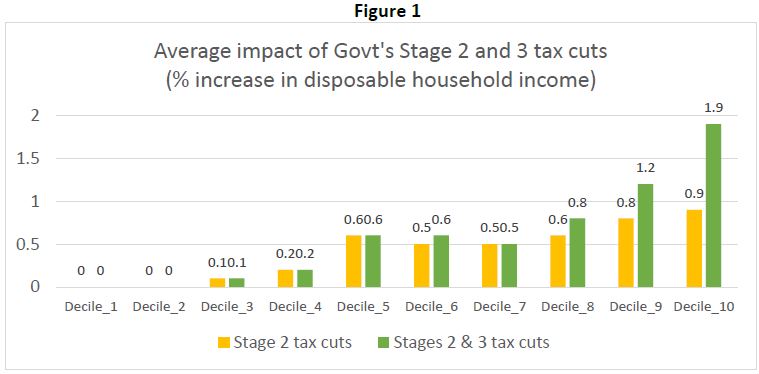 Source: ACOSS
The government has already legislated $140 billion in tax cuts over the next decade, including another two rounds worth $17 billion per year due to come into effect in 2022 and 2024.
Findings
Households with income over $200,000 a year would receive an average of $104 a week.
The gain for individual taxpayers on $200,000 or more that fully benefit from these tax cuts is $227 per week.
Households with income of $50,000-$75,000 a year would receive an average of $4 a week.
Households with income of $25,000-$37,000 a year would receive an average of 50 cents a week.
Cutting the 19% tax rate to 17.5% would mean households on less than $50,000 a year would gain an average of less than $5 a week, compared with $7 a week for a household on $100,000 and $9 a week for one on $200,000 a week.
The analysis concludes that increasing Newstart is the most effective way to support people on the lowest incomes. It shows that almost all of the gains of increasing Newstart by $75 per week would flow to the lowest 10% of households by income.
ACOSS CEO Dr Cassandra Goldie said: 'Tax cuts, especially those going to high income-earners, are not effective in boosting economic growth because much of them will be saved rather than spent immediately. Low income-earners, including people on Newstart Allowance, have to spend every dollar they get on the essentials such as rent and food, so it goes straight into the regional economies that need it most'.
Open letter from the Community Sector
A group of 35 community organisations providing essential services to people on low and modest incomes have published an open letter calling on the Parliament not to rush to pass more income tax cuts before the elections, and to reverse those already legislated to go to high income-earners after 2020.
The letter stresses that those on low and modest incomes will not benefit from these tax cuts, highlighting that lifting Newstart by $75 a week would cost $3 billion a year –just one quarter of the cost of the tax cuts already legislated for taxpayers on over $90,000 a year. Lifting Newstart and other payments is a better way to stimulate a slowing economy and guarantee essential services, the letter concludes.
(Source: ACOSS Media Release | Open Letter | Modelling Report)