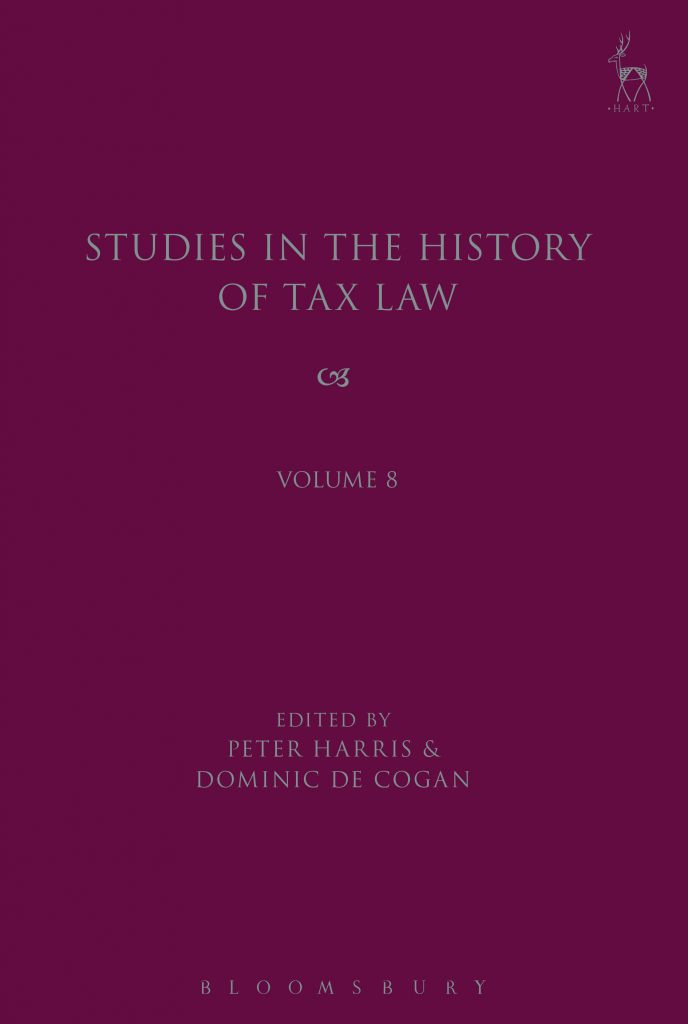 Studies in the History of Tax Law, Volume 8 (ISBN 9781509908370)
Edited by Peter Harris and Dominic de Cogan
Published 10 August 2017
Format: Hardback
Pages: 442
Publisher: Hart Publishing
RRP A$250.00
The book is now available at https://bloomsbury.com/au/studies-in-the-history-of-tax-law-volume-8-9781509908370/. Austaxpolicy readers will enjoy a 20% discount from the publisher when they purchase the print edition. All you need is to enter the coupon code SHTL17 at the checkout and you will save 20% from the RRP.
About
These are the papers from the 8th Cambridge Tax Law History Conference held in July 2016. In the usual manner, these papers have been selected from an oversupply of proposals for their interest and relevance, and scrutinised and edited to the highest standard for inclusion in this prestigious series.
The papers fall within five basic themes: Two papers focus on tax theory; one on John Locke and another on the impact of English tax literature in the Netherlands in the nineteenth century. Five deal with the history of UK specific interpretational issues in varying contexts – an ancient exemption, insurance companies, special contribution, the profits tax GAAR and capital gains tax. Two more papers consider aspects of HMRC operations. Another three focus on facets of international taxation, including treaties between the UK and European countries, treaties between the UK and developing countries and the UN model tax treaties of 1928. The book also incorporates a range of interesting topics from other countries, including the introduction of income tax in Ireland and in Chile, post-war income taxation in Australia, early interpretation of 'income' in New Zealand and a discussion of some early indirect taxes in India and China.
Contents
John Locke: Property, Tax and the Private Sphere
John Snape and Jane Frecknall-Hughes
2. The Birth of Tax as a Legal Discipline
Hans Gribnau and Henk Vording
3. The Curious Case of Mr Trull
Sir John Baker
4. The Architecture of Tax Administration: Function or Form?
Chantal Stebbings
5. Let Them Pay For Their Starvation: The Imposition of Income Tax on Ireland in 1853
Peter Clarke
6. Not Like Grocers
Richard Thomas
7. The Life and Times of ESCs: A Defence?
Stephen Daly
8. The Special Contribution of 1948
John HN Pearce
9. The Profits Tax GAAR: An Aid in the 'Hopeless' Defence Against the Dark Arts
Peter Harris
10. Statutory Interpretation in Early Capital Gains Tax Cases
Philip Ridd
11. The UK's Early Tax Treaties with European Countries
John F Avery Jones
12. The 'Great Powers' and the Development of the 1928 Model Tax Treaties
Sunita Jogarajan
13. The UK's Tax Treaties with Developing Countries during the 1970s
Martin Hearson
14. From Wartime Expedient to Enduring Element of Fiscal Federalism: Centralised Income Taxation in Australia since World War II
Richard Krever and Peter Mellor
15. The Historical Meaning of 'Income' in New Zealand Taxation Statutes, Cases and Administration, 1891–1925
Shelley Griffiths
16. When Minerals are not Enough: The Origins of Income Taxation in Chile and their Importance to the Current Situation
Maximiliano Boada
17. Cesses in the Indian Tax Regime: A Historical Analysis
Ashrita Kotha
18. The State Salt Monopoly in China: Ancient Origins and Modern Implications
Yan Xu