Distance-based charges can help sustain tax revenues and improve environmental and mobility outcomes as future vehicles rely less on fossil fuels.
According to a new report, Tax Revenue Implications of Decarbonising Road Transport – Scenarios for Slovenia, tax revenue from diesel and gasoline use in private cars is likely to decline substantially in the coming decades. This would put stress on government budgets, particularly in countries where fuel tax revenues represent a large share of total revenue. A gradual shift from fuel taxes to distance-based charges can contribute to making tax policy more sustainable.
In the report, researchers at the OECD and the International Transport Forum (ITF) analysed how tax revenues from transport fuels could evolve over time as more fuel-efficient and alternative fuel vehicles penetrate the vehicle fleet. Based on simulations for Slovenia, they assessed how tax bases in the transport sector could evolve to 2050 and how tax policy could adapt to declining fossil fuel use in the long term. The stakes are high in Slovenia, where 14.6% of total tax revenue collected at the central government level in 2016 was from excise duties and carbon taxes on road transport fuels.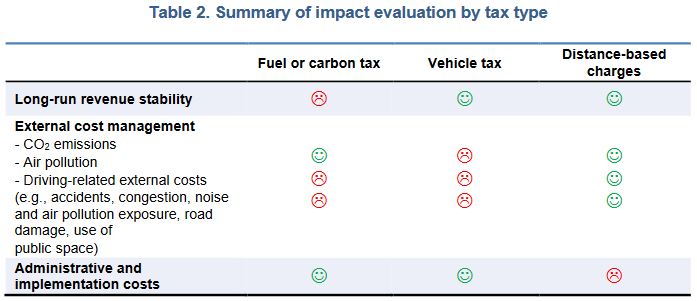 Source: OECD/ITF (2019), Tax revenue implications of decarbonising road transport: Scenarios for Slovenia.
The analysis for Slovenia holds lessons for other countries – in particular those with high reliance on fuel taxes.
Gradual reforms to the transport tax system starting from today would allow for a smooth adaptation to technological changes in the vehicle fleet. At the same time, they would reduce risks from abrupt change to households, businesses and government revenues. Policy should be designed around critical accompanying measures to support lower-income households that may be affected disproportionally by the reform in the short run, according to the report.
"Slovenia, like many other countries, needs to anticipate a gradual decline of fuel tax revenues from road transport," said Pascal Saint-Amans, Director of the OECD Centre for Tax Policy and Administration. "Reduced fossil fuel use in road transport is good for the climate and good for our health. Shifting to distance-based charges will allow governments to embrace a transport sector that is less dependent on fossil fuels, while securing their revenues by moving to more sustainable revenue sources."
The report was officially launched on 22 May 2019 at the ITF Summit on "Transport Connectivity for Regional Integration".
(Source: Media release | Read the report | Highlights)
On the blog
Why American Infrastructure Gets a "D+" and What Can be Done, by Roberta Mann (28 April 2017)