This year's Anglicare Australia Rental Affordability Snapshot surveyed over 69,000 private rental listings and tested whether those on government support or minimum wage could afford to access the market. Anglicare's results suggest there exist 'chronic' shortages of affordable housing across Australia. The organisation is now calling upon state and federal government to increase investment in this sector.
Methodology
The report measures affordable rent as demanding no more than 30 percent of household income – after that Anglicare argues it infringes upon the quality of food, clothing and other essentials. From this benchmark, the report then tests the income profile of fourteen different households, ranging from single people on government assistance programs or minimum wage to couples with children in similar fiscal circumstances. A full outline of its methodology can be found here.
Findings
The snapshot paints a dismal picture of the rental market for workers on income support. Their data finds that, out of 69 000 private listings;
317 rentals were affordable for a single person on the Disability Support Pension
75 rentals were affordable for a single parent with one child on Newstart
1 rentals were affordable for a single person on Newstart
0 rentals were affordable for a single person in a property or share house on Youth Allowance
There were no affordable rentals for a single person on Newstart or Youth Allowance in Sydney, Canberra, Melbourne, Adelaide, Darwin or Perth.
Australians working on minimum wage do not fare much better, Anglicare found only two percent of the private rental market was accessible to this income bracket. Though, this study does not account for those increasing number of Australians working casually, the authors of the report suggest their experience parallels the trends they observe in the other groups.
Conversely, in the context of a retiring Boomer generation, this year's snapshot also observed worrying trends with older Australian's experience in the rental market and the ability of the Age Pension to meet cost of living expenses.
The report found that for a couple on the Age Pension, only three percent of properties were affordable and for a single pensioner that number fell to one percent. Anglicare argues this is of particular concern because 660,000 Australians on the Age Pension do not own their home and are experiencing severe fiscal stress at a point in their lives when stability is of paramount importance. The most worrying trend in this demographic is that older single women are more likely to live alone, experience social isolation and are among the most vulnerable to homelessness and housing stress.
Table 1: Rental Affordability Snapshot findings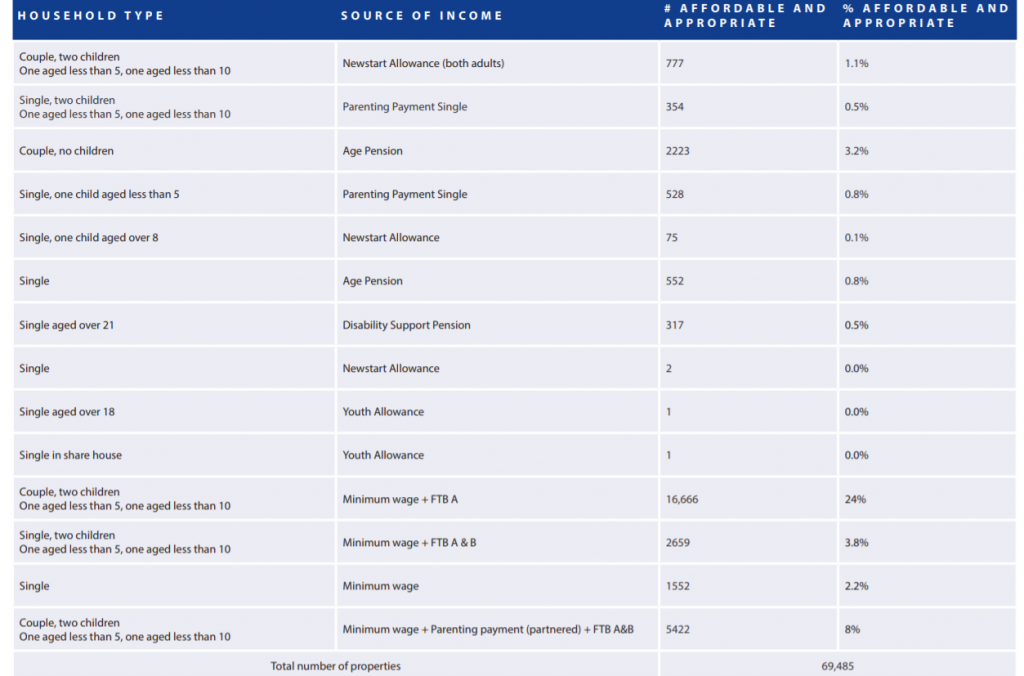 Policy implications
Overall, the report concludes that breaking into the rental market is proving very challenging for those on low incomes. More concerning for policy makers is that current levels of government assistance in programs such as the Age Pension, Newstart and Youth Allowance are failing to keep pace with the rising cost of living. As such those individuals are almost completely locked out of the private market, which, in turn is increasing the pressure on public housing infrastructure.
Whilst the report recommends government increase income support to better reflect contemporary costs of living, it finds that reinvesting in social housing would be the effective means at reversing the current trends. Modelling acquired by Anglicare, suggests the Federal government needs to invest in 300 000 new social and Indigenous specific rentals and 200 000 low cost rentals. Moreover, with the population rapidly ageing, Anglicare maintains that social housing would also make caring for those Australians more fiscally sustainable. Social housing can better facilitate modifications to properties, such as safety rails and offers a more secure living situation than the private market can in its current state.